Terry Wildemann, CEC, CPCC, CPBA
In her consulting business, Intuitive Leadership®, High Performance and Business Accelerator Coach, Speaker and Best Selling Author, Terry Wildemann, works with socially conscious CEO's, small business owners and leaders to take their business to the next level with speed, calm, ease, and flow.
Her 40 years of business and leadership experience includes owning a manufacturing company, image consulting company, and a leadership and holistic education center. She has taught at universities and a community college and her clients include entrepreneurs, banks, government agencies, chambers of commerce, and the US military.
That Terry Wildemann is a leader is apparent from her strong, magnetic presence. She owns the room. Calm and poised, she captivates her aufience with a clear, easy to follow style, pepper with stories of her years as a navy wife, trainer and business woman. She's engaging, informative, and fascinating blend of intuitive wisdom and tactical skills. If you are looking for a keynote speaker who is uplifting, authentic and engaging, Terry Wildemann is your perfect choice.
Terry is very sought after for her ability to engage an audience. Terry doesn't let you slip into a disconnected warm body occupying space. She demands your participation by giving you an abundance of energy and positivity. The room shifts to a unified body sharing in her "call to action and response."
TEDx Salve Regina University, Newport, RI
"Do You Really Want To Chase The Mysteriously Illusive Work/Life Balance Myth?"

Book Signing at Barnes and Noble ,Middletown, Rhode Island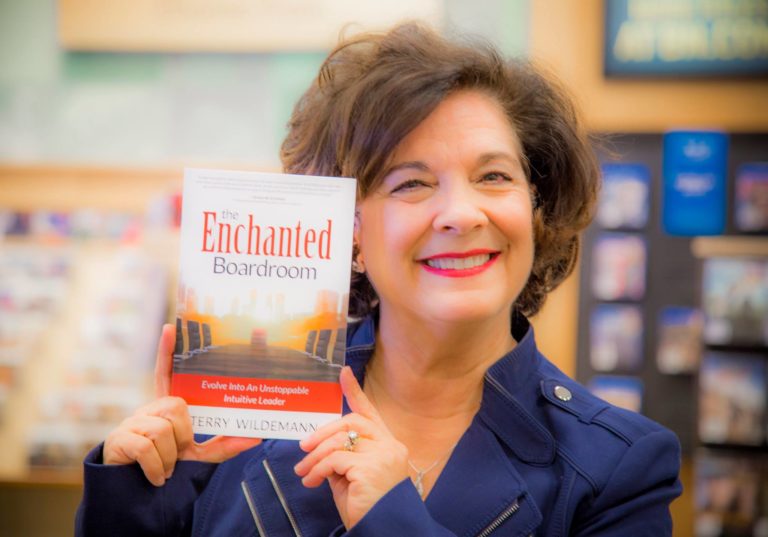 Impromptu presentation sharing two speaker tips and law of attraction insights with Vanio Tavares.
Women Speakers Association Speaker Success Showcase
SAMPLE SPEAKING TOPICS CUSTOMIZED TO YOUR AUDIENCE
"INWARD JOURNEY, OUTWARD RESULTS" THREE KEYS TO CONFIDENCE, CALM AND EASE.
In this introductory leadership program discover how the intuitive leaders' inward journey results in manifesting a thriving values based workplace culture that serves managers, employees and clients alike. Look at the common traits of successful leaders and you find confidence, an understanding of themselves, deep intuition, and an ability to connect and motivate others – positively or negatively.
In the workplace, practical systems are necessary to serve the client and for profit and gain. However, a lack of understanding of oneself, and how to motivate those who implement those systems, can contribute to workplace chaos. This is where the inward journey begins.
Key One: A simple formula to create positive results.
Key Two: How to shift chaos and overwhelm.
Key Three: 3 words to avoid when communicating that make a difference.
ZAP THE STRESS; SHIFT THE CHAOS
Are you on the hamster wheel of life? Does your busy life attract more and more stuff everyday and you run faster and faster to keep up causing you to miss out on the joy of life.
Step off that wheel and take your life back from the brink of burnout – for yourself, your kids, family, friends, and co-workers. Why? Because if you don't care for yourself who will? The important folks in your life want you there and too much stress can take you away mentally, physically and emotionally from them and yourself.
In 2000 Terry made a life saving decision; She had to learn how to control the stress in her life because it was slowly killing her body, mind and spirit. Soon after making that decision, and asking for help, the right tools, programs, certifications entered her life. She soon learned that controlling negative stress is so much more than eating right and exercising!
This dynamic program will open your eyes to:
The work/life balance myth
What actually creates stress
The magic of letting go without fear
The "I need to do it all" syndrome
The three little words that can change how you speak.
and more
LET'S COMMUNICATE! UNDERSTAND YOURSELF AND OTHERS TO ACHIEVE POSITIVE RESULTS
Imagine……. everytime you speak you are heard and understood. The results? The people you interact with, whether in the workplace or at home, take action and create positive results because they understand your expectations and exactly what you are asking of them. Imagine…..
Communicating in a way that you are listened to, heard and understood when selling, providing customer service or leading.
Easily managing and positively working with the folks around you.
Attracting what you want and less of what you don't want
Influencing others to take inspired action by shifting commonly used phrases from negative to positive.
Using 3 simple words that WILL improve your writing and speaking so that you connect with clarity.
Creating a thriving workplace culture by focusing on this one very important thing most companies ignore.
Networking in a way that makes a difference
UNLOCK INTUITIVITY TO LEAD POSITIVELY AND SUCCEED BRILLIANTLY.
Have you ever had an intuitive hit and ignored it? Most of us have and lived to regret it. Release the fear of change, listen deeply to your intuition, and identify the activities and action steps to achieve professional and personal goals. 
Learn how to transform your insights and goals into action steps  to manifest success in your business and career.
Understand how your fear can get in the way of taking beneficial action and learn how to dissolve it.
Learn how to  trust and believe your Wise Inner Guidance System and listen to the insights and answers that come.
Learn a powerful exercise to reduce stress and allow intuition to easily evolve 
Allow your intuition to guide decision making
VANQUISH THE TIME ROBBERS!
Traditional time management programs are often very linear. They put everyone into the same box and it just doesn't work!
In this presentation, Terry offers thought provoking insights and tools that will shift perspectives on time management and work/life balance. The results are eye opening "aha's" that lead toward changing behaviors that improve workplace performance. Terry shares the answers to the following questions;
Does work/life balance really exist?
How do Time Robbing words, thoughts and behavior affect your life?
We all have the same 24 hours. Why do some folks seem to have all the time in the world?
Do you feel like you go, go, go and get little done?
How to shift from Time Robbing anger and frustration into calm and ease.
How we create our own overwhelm and exhaustion and what to do about it?
What steps to take to manage time and improve productivity on YOUR TERMS, YOUR WAY.
How to work with the Magnetic Business Attraction Action Plan for time management and focus.
MAGNETIC BUSINESS ATTRACTION FOR BUSINESS OWNERS AND LEADERS
Imagine being so clear and focused on your goals that everything you need to achieve them comes easily. 
In this presentation Terry shares the step by step processes that create unparalleled results by integrating practical systems with a positive mindset, attitude, intuition, great communications and  practical law of attraction. 
This electric combination infiltrates all areas of business and life leading you to the success you seek.
---
Entrepreneurs and leaders wanting to step up their game will walk away from your event with clear steps to enhance performance for themselves and their teams. Terry's delivery and energy lifts your audience to new levels by creating "aha" moments of self-evaluation.
As a seasoned event planner herself, Terry will assist you to create a memorable experience for your audience. She understands the importance of detail and connectivity from beginning to end of an event. The energy must be inviting and flowing to attract the folks you most want to serve.
Need a pre-launch video to engage, enroll and increase registration?
To help you attract interest and assist you to create a successful event, Terry will create customized videos that speak directly to your audience. Working with the event planning team, Terry will discuss and help choose the kinds of video that will make the most impact for your event. Once the video is created you will receive the code or links to embed the video in your email, webpages and newsletters or to upload to your YouTube Channel. In addition, Terry will also offer articles and blog posts written specifically for your event.
Terry also understands the importance of connection.
Terry enjoys interacting and engaging your audience before, during and after the event to set the energy. Pre- presentation, Terry mingles and networks with your audience members interacting and asking questions to personalize her talk. During her presentation she often includes insights gained from those connections. After the event, Terry continues interacting with your audience members and will sign books, pose for pictures, engage with VIPS at exclusive meals or meetings.
What kind of speaking events fit Terry's talents and expertise?
Motivational and inspirational speaking, breakout sessions and training for:
Colleges, universities, chambers, for-profit businesses, non-profit organizations,
industry organizations (HR, NAWBO, etc.)
Keynotes
Conferences
Conventions
Expos
Meetings – sales,
marketing, leadership
Openings and Closings
Terry's Background and What Makes Her Unique
Terry excels at training, coaching and developing professionals and entrepreneurs into unstoppable stress resilient intuitive leaders. They evolve into puzzle-solving ninjas who discover creative solutions by integrating the practical, tactical, logical, physical, energetic, spiritual, intuitive and emotional sides of themselves. These multi-faceted leaders bring out the best in themselves and others using Terry's Shiftology™ system.
Terry's entrepreneurial and leadership background includes her role as a consultant, professional development trainer, certified image consultant and stress resiliency coach in her businesses; Image Plus Associates, the Winds of Change Holistic Education And Leadership Center, and Intuitive Leadership. Clients have included the military, financial institutions, chambers of commerce, colleges and universities, small businesses and entrepreneurs. Terry's 2nd solo book, "The Enchanted Boardroom; Evolve Into An Unstoppable Intuitive Leader," released Nov. 15, 2016 (Motivational Press.)
Terry works with the same practical and cutting edge solutions that helped her refocus her own business after experiencing several energy and health extinguishing 'burnouts.' Terry's Shiftology business and leadership systems bring back overwhelmed, and "on the brink of burnout" executives and leaders. Her clients learn how to tap into their "Inner Business Game" to discover and implement hidden solutions for positive results in leadership, communications, sales and service.


Terry's co-authored books
"Unlock The Power Of You" (Aviva Publishing) co-author
"Success in High Heels" – international bestseller co-author
"Hot Mama in High Heels" – international bestseller co-author
"Bold is Beautiful" – international bestseller co-author
"The Missing Piece In Business" – international bestseller co-author
"The Innovators" – international bestseller co-author
Terry's solo books
"1-800- Courtesy; Connecting With a Winning Telephone Image" – 1998 (Aegis Publishing)
"The Enchanted Boardroom; Evolve Into An Unstoppable Intuitive Leader" – 2016 (PuMotivational Press)
Terry's education and certifications
Certified Co-Active Coach
Certified Executive Coach
Licensed HeartMath® Provider
Certified Professional Behavioral Analyst
Certified Law of Attraction Trainer
Certified NLP Practitioner
EFT/Tapping coach – 3rd level
Reiki Master
B.S. Criminal Justice – West Chester State University.
Are you interested in connecting with Terry about speaking for your upcoming event? If so please fill out the form below. To your success!