Happy Hour With Terry
Success Circle and Networking Event
Enjoy networking, engagement and conversation at its finest. Meet like-minded people who help each other and share ideas. Move forward together as you create genuine and authentic relationships and connections.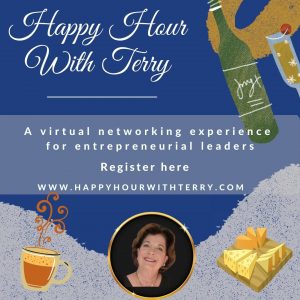 "Networking is not about just connecting people. It's about connecting people with people, people with ideas, and people with opportunities."
― Michele Jennae
What happens during a
"Happy Hour With Terry" Event?
Evolve into a client attraction magnet and organically increase your Relationship Capital as you network with folks from around the world. 
Experience multiple, small group breakout sessions where you get to really connect with fellow attendees.
Discover fresh insights and success generating ideas and solutions to your business challenges with our networking system.
Enjoy your own libation and snacks (coffee, tea, wine, chips, cheese, crackers, etc.).
This event is a "Free Zone" from sales and promotions. Just pure networking and connection.
Conversation and CONNECTions Made Easy
"Terry always draws a supportive and enthusiastic crowd. I have witnessed the transformation of small business owners who worked with her 1 on 1 as well as in a group setting. She has the talent for taking people who are in a serious rut and helping them get out of their own way and lead productive and satisfying businesses. Terry genuinely cares about the people she serves and has infinite patience during the process of helping people be better personally and professionally."Mary Brimer
About Your Faciliator
Terry Wildemann
Happy Hour With Terry was created to serve YOU! The Entrepreneurial Leader looking for something new and fresh so you can grow in mind, body and spirit.
I'm Terry Wildemann, an Intuitive Success Navigator who guides entrepreneurs to create limitless prosperity powered by Intuitive Leadership.®  My focus is to reignite and shift my clients into harmonizing the spiritual, personal and practical sides of their businesses and themselves. I work with the whole person so they step into the world and make impact with confidence, competence and credibility. 
Happy Hour With Terry was created to offer virtual networking and referral opportunities to those in my circle of business owners, mentors and friends.
Business grows when we engage with like minded folks and help them grow their business too. 

Having run networking events – both live and virtual – for the last 3 decades, it's so much fun knowing who to connect to whom, stepping back and watching the relationships flourish. It's how to build business one person at a time.
Looking forward to getting to know you and having you join a Happy Hour With Terry networking event.