An inner circle for
Intuitive Entrepreneurial Leaders
Powered by the
Art and Science of SHIFTology℠
INTENTIONAL, INTUITIVE AND IMPACTFUL CHANGE
Ground and Amplify
Your Inner Business Game with Terry Wildemann
Re-Ignite and SHIFT from solely imagining, to actually making YOUR Business and Leadership goals a reality. Great entrepreneurial leaders know that to lead well it's important to coherently focus on all 3 sides of business: the Spiritual, Personal and Practical. 
Harmonize the Spiritual, Personal and Practical with SHIFTology℠
The Limitless Prosperity Business Program offers real world business and personal development courses and coaching.  Grow in mind, body and spirit with Terry's guidance and decades of business and leadership experience. She, and her team of guest experts, share their gifts of merging solid business practices with intuition and spirituality. This focused trifecta of talent helps you to fine tune your own special gifts
This program helps you shift your inner business game and leadership out of chaos and step into calm, ease, and flow.  Our SHIFTology courses and tools, merged with executive, business and holistic coaching and mentoring, re-ignites your inner business game shifting you into alignment and integrity. We help you to create a positive, healthy and coherent mind, body and spirit.  You can do it – now!
The SHIFTology℠ Philosophy
The Entrepreneurial Leader who joins this program know that it's time to do things differently. SHIFTology helps you to create clarity, identify and work with your special intuition, hold yourself accountable by shedding old habits and creating new ones.  The SHIFTology Lab of personal and professional development courses guide you in creating action steps to move you towards your goals.  Feel accomplished, safe and in control while you are learning, growing and evolving.
Accountability, discipline and intuition are keys to your success.
Our SHIFTology Accountability Matrix holds your feet to the fire to change habits and implement new ones.
Transform yourself and your business!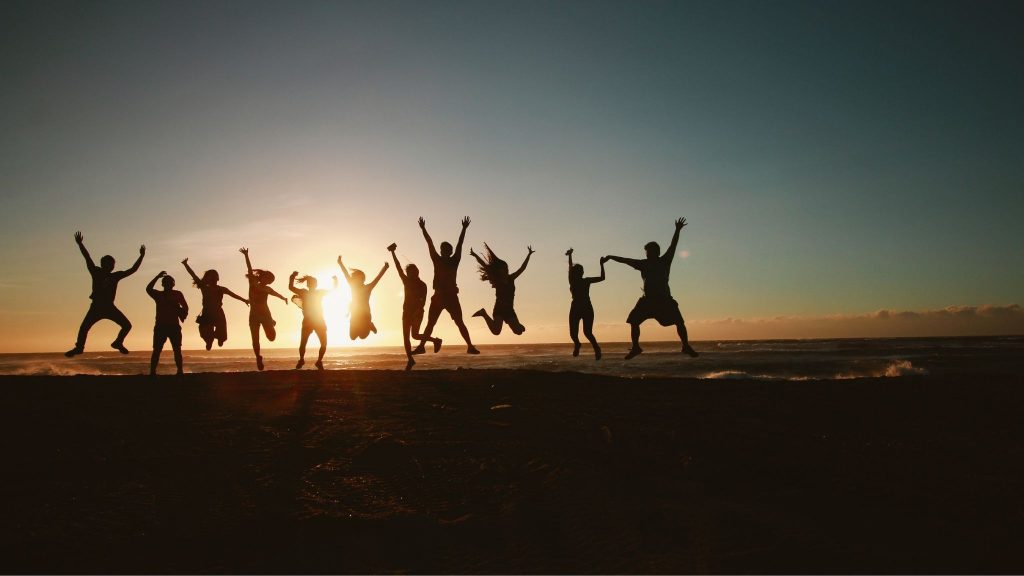 Join us and being your Leader's Inward Journey harmonize the Spiritual, Personal and Practical sides of your business TODAY!
Does  this sound like you?
Are you a business owner who is struggling, doing too much and losing your focus?
Are you seeking clarity and perspective to influence your decision-making and leadership?
Do you get catatonic and do nothing when struggling with decision-making?
Are you concerned that you are not the leader you are meant or could be in your business?
Do you seek to work with all of your Divine gifts?
Do you understand how to observe a situation from all angles?
Are you happy with your personal and business relationships?
Do the people in your world tell you to slow down?
Do you keep ignoring the continuous intuitive signs to slow down?
Do aches and pains keep dogging you?
Does worry control your life?
Are you constantly fighting the clock and late for meetings?
Do you want to take a vacation but fear of what may happen to your business if you do?
Do you hold back from speaking your truth because of fear of repercussions?
Are you tired of being a lone ranger!??
Leading and making decisions with new perspectives from 35,000 feet up and at sea level.

Experiencing a positive learning culture with fellow entrepreneurs on their own Inward Journey.

Amplifying your leadership, business and life as you s

hare opportunities to grow your relationships and teams

Learning to work with all your gifts and harmonize  with practical systems. 

Identifying and learning about the best and worst business practices based on current information and experiences.

Co-Creating at it's best! Create new initiatives to put in place your mission and vision.

Getting answers to your questions with engaged like minded entrepreneurial leaders.

Enjoying powerful discussions to help you fill gaps in your business and leadership.

Learning how to use cutting edge tools from Terry's SHIFTology toolkit to help operate your business with calm, ease and flow.

Having confidence and competence when working with

ALL of

your gifts. 

Doing it all without fear to create positive change in your career and life
Create business and sales systems to attract your ideal client
Trust and believe your intuition.
Tap into intuitive group energy to ease decision-making.
Communicate to be heard and listen to understand
Reignite yourself first to
 reignite your business. 
Practice discipline and accountability to achieve your goals.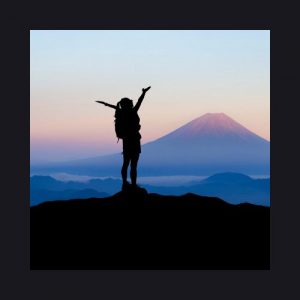 Understand how to work with Law of Attraction in business and life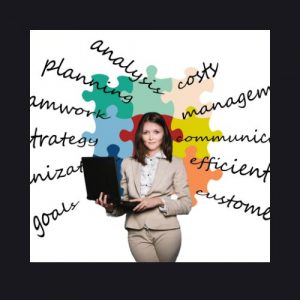 Accountability allows you to shift old habits and create new ones that truly serve you.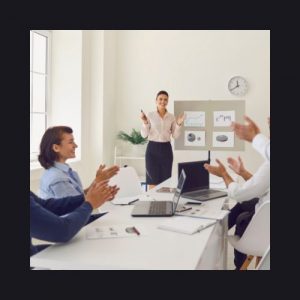 Create systems that naturally attract and serve your ideal clients
Our exclusive 12 month Limitless Prosperity Business Program is divided into 3 trimesters.  The trimester model (4 months) allows students the flexibility to step away at the end of  the 4 months if it's not a match or to take care of personal situations that come up (such as caregiving for an elderly parent or sick family member).  They can return later to the program.
Are you ready to shift, lead and thrive?
We combine our SHIFTology Accountability Matrix with our personal and professional development courses, workshops and coaching,  to help you lead and influence with positivity. Succeed in business and life with newfound confidence, competence, and credibility.
Are your outcomes guaranteed?
No one can guarantee your outcomes. It depends on your dedication, focus and drive to work with what we offer you. Implementation is key to the success of this program. It requires your time and a willingness to look in the mirror and clear out the success blocks. We provide the tools, training, coaching and mentoring. You provide the rest as you navigate your own Inward Journey.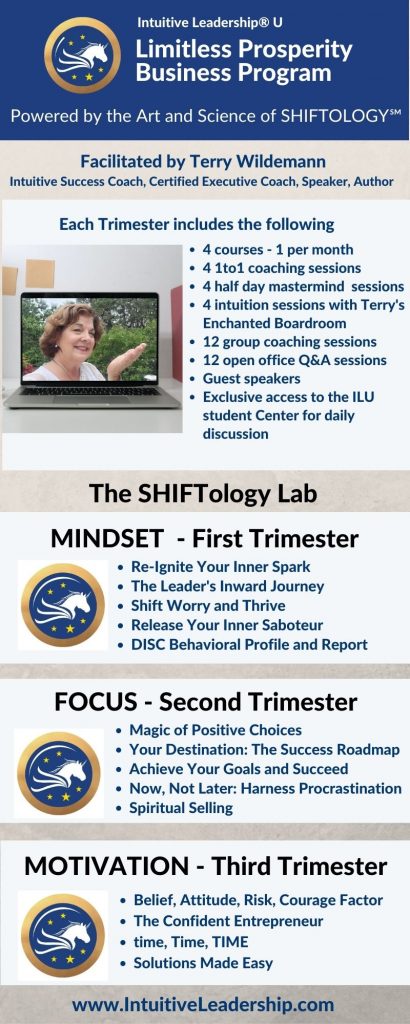 Terry is your ideal coach and trainer
to guide you towards the success you seek.
In business for more than 3 decades, certified as an executive and co-active coach for 22 years, Intuitive Leadership® founder and CEO, Terry Wildemann, guides entrepreneurial leaders in business and life.  She intuitively and practically helps her clients to clear the self-sabotage and emotional baggage that gets in the way of the success they seek.
Having experienced burned-out several times. Terry chose to heal herself and became certified and trained in various holistic modalities (NLP, Emotion Code, Body Code,  EFT/Tapping). These skillsets are included in all sides of her work and guides her in helping students to shift mindset, improve health and relationships.
Terry's students increase confidence and courage and tap into all sides of who they truly are. They become stronger and positive influential leaders as they harmonize the practical and logical, energetic, spiritual, emotional and intuitive parts of themselves!
With deep self-reflection, renewed vision and trust, new business systems and business building skillsets, students transform and evolve into Unstoppable Intuitive Entrepreneurial Leaders in service to humanity.
The Limitless Prosperity Business Program includes a one year Inner Circle comprised of 3 Trimesters
(4 months each)
Access to:
1. Intuitive Leadership® U courses
2. The SHIFTology Lab courses
3. All multi-day events during the 12 months
Weekly group coaching (described in the next column)
Video and MP3 of each coaching hour, training and meditative experience
Personal and Comprehensive DISC , Values, EQ Behavioral Profile and debrief

1-1 discovery roadmap session review
Each Trimester includes the following:
12 Inner Circle Group Sessions 

4 Inner Circle Group Intuition Sessions with Terry's Enchanted Boardroom 

4 Office Hour Sessions – ask Terry anything about business

4  group healing sessions

4 half day Inner Circle mastermind  

4 SHIFTology Lab training sessions 

Private daily support group in the Intuitive Leadership U Student Center

Planners and workbooks 

Includes vision board, intuition and resilience training
One interview on Terry's newest podcast – SHIFTology Live!
Who will enjoy this program?
This program is for you if you are: 
Ready to invest in yourself and seek success in all areas of your life.
Investing in yourself is key to your success. The more you do that you improve your wealth, health, relationships, education and spirituality


Open to "Awakening the Possibilities" in Business, Career and Life.
You know there are different ways of doing things. You are ready to explore innovative solutions to solve challenges with cutting edge tools.


Wanting to deepen your Spirituality
Open to expanding your intuitive gifts and understand how to work with Law of Attraction in a powerful way.  Access and work with the gifts you were born with, deepen your spiritual awareness and connection to grow yourself,  your career or business and positively influence those you serve.


Wanting to improve resilience, leadership and communications
Stress affects the mind, body and spirit. Terry's healing gifts and SHIFTology Toolkit work with you from the inside out to increase your resilience and improve how you manage daily stress. She clears self-sabotaging baggage resulting in improved  health and leadership behaviors. Terry works with you to shift your language to positively influence others.


Wanting to make a difference locally, nationally or globally.
You have a calling, a feeling, a knowing  that you are meant to use your talents to help others improve their lives, careers and businesses.


Wanting accountability.
This program holds your feet to the fire and works to bring out your best. It can only be done with commitment and solid intention to positive change in all areas of your life – the practical, personal and spiritual.
Who won't enjoy this program?
This program is NOT for you If:
Spirituality is unimportant to you. 
You don't believe in Law of Attraction,  God, the Universe, or a Divine Higher Power



You expect it to be easy. 
You don't want to look in the mirror or put in the effort. Instead, you prefer to sit on the couch  thinking things will magically happen.



You dislike change and won't budge on how you do and see things. 
If you aren't willing to create new habits, learn new things, be open and flexible to implementing new ideas, this program is not for you.



You allow fear, perfection, and the "what if's" to control you. 
This program is not for you if you choose to stay stuck in the past and the land of 'what if's." The "we've always done it this way" perspective is powerful when used to learn about what worked, and didn't work, from the past. Understanding why things did not work, and what systems are working, leads to influential leadership that allows your teams to use their gifts and thrive.



Fear based perfection keeps you where you are instead of moving you, your team and your business forward in current times.  Striving for perfection keeps you in a box.  Striving for excellence, with flexible boundaries and insight, allows for deep growth in all areas since everything is always evolving and changing.

Don't take responsibility for yourself. 
You prefer to play the "blame game" instead of owning that you are responsible for your results. Excuses are a way of life that you aren't willing to give up. You keep "trying" instead of "committing to those things that you know will truly help you change on all levels.
Want to have a conversation and explore the
possibilities?
possibilities?
Look At What Others Say About Terry's Coaching
I have been struggling with some final key points in sharing my powerful message with the world. I had a short call with Terry and WOW! She hit the nail on the head. I now have such clarity, and some new names and steps for my products and processes. She truly is an amazing, insightful, coach/mentor/guide. Thank you Terry.
Terry has shown that her abilities are to be able to help entrepreneurs to identify their blocks and release them. I left feeling revived and excited. She will empower you to create the ultimate wealth in your life and in your business. I highly recommend Terry for your entrepreneurial needs."
I was so inspired by Terry, an amazing leadership coach and intuitive. She is now my first business coach and she is amazing. I am seeing so many things in a new light. The depth and breadth of leadership, business, healing and coaching experience she brings is truly astounding and her willingness to incorporate her intuition enhances her effectiveness as a coach that much more.
"I had the pleasure of meeting with Terry and a conversation unfolded about a rebrand of my company to reach a more diverse audience. Through her insight and intuition, she came up with an idea that saved me countless hours and lots of money. What a huge gift! I highly recommend working with her if you are needing guidance in brand alignment and expansion. Thank you, Terry!